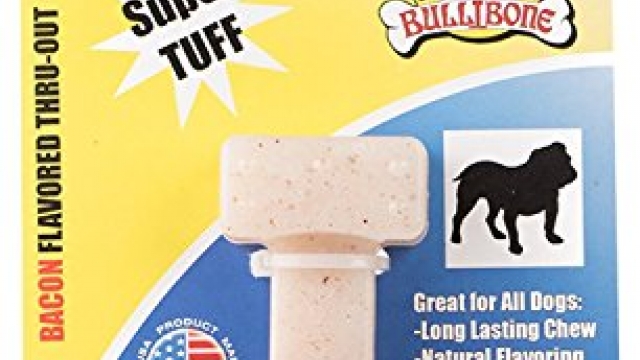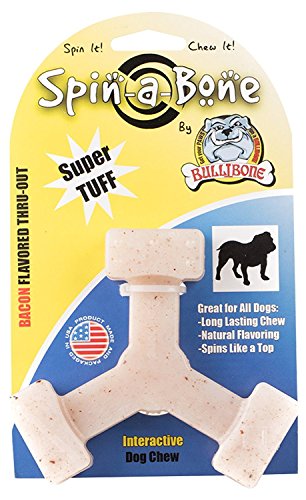 PERFECT SIZE: These spinning dog bones for aggressive chewers are perfect for small and medium dogs. These interactive dog toys relieve boredom and anxiety. Satisfy your dogs chewing instincts and help keep your dog happy and engaged
MADE IN USA: Spinning dog chew toys Made in USA only. We are an independent, American company and proudly stand behind every dog treat we make. Don't rely on Chinese dog toys for your loved one, buy American made products
FUN TO USE: These are long lasting dog chews, with multiple chew heads and an elevated, spinning base for fun, interactive engagement. These dog toys for aggressive chewers are great for triggering natural instincts and occupying power chewers
DENTAL HYGIENE: Teeth cleaning material messages gums and cleans teeth for dog oral health. Vet recommended for oral hygiene and dog teeth cleaning. Save money on vets bills and chewed up shoes with our power chew bones
PERMEATED WITH FLAVOR: Dog toys for aggressive chewers are infused with an irresistible Bacon taste dogs love. Not sprayed on top, these durable dog toys for boredom are 100% safe, with long lasting natural flavor from the first bite to the last
Our bacon flavored Spin-a-Bone nylon dog chew is designed to bring out your dog's natural hunting, chasing, and playing instincts. It's an interactive spinning toy that allows you to engage in play with your dog, and is fully chewable once they catch it.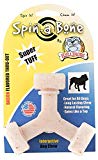 Average Price Bully Mix Found To Buy Online: $ 12.99
Best Price To Pay Online Found By Bully Mix Sniffer Dogs Was: $ 11.99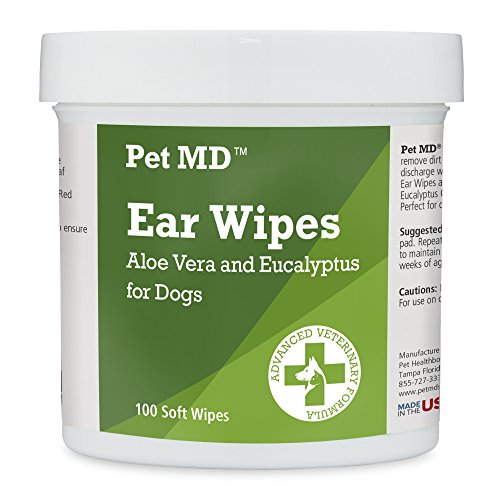 ADVANCED VETERINARY FORMULA Designed to Gently Clean, Deodorize and Dry Your Pets Ears
GENTLE and SAFE for Regular Use which Prevents Ear Infections, Reduces Wax Build Up and Removes Debris in and Around the Ear
100 CONVENIENT, ALCOHOL FREE, Soothing and Non-Irritating Disposable Ear Wipes for Dogs. For Dogs Over 12 Weeks Old
REDUCE Foul Ear Odor and Prevents Infection to Keeps Your Dog Happy and Healthy without Medication
Made in the USA in Federally Regulated Manufacturing Facilities to Ensure Quality and Safety
Pet MD Ear Wipes are a fast, convenient way to gently
remove dirt and keep your pet's ears free of wax and
discharge which can cause infections and odor.
Pet MD Ear Wipes are alcohol-free and contain Aloe Vera and Eucalyptus
Oil for clean, healthy and fresh-smelling ears. Perfect for daily
use or quick clean-ups.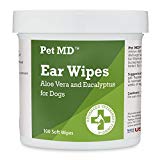 Average Price Bully Mix Found To Buy Online: $ 16.99
Best Price To Pay Online Found By Bully Mix Sniffer Dogs Was: $ 12.99
Find More Bulldog Toys Products