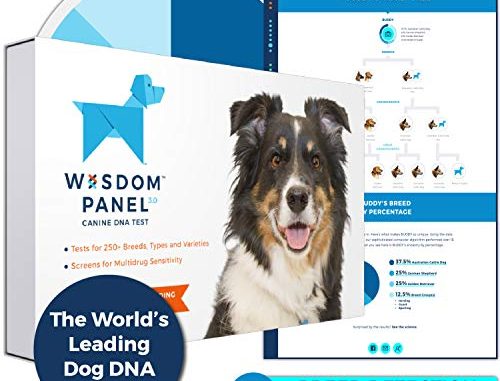 Wisdom Panel 3.0 Canine DNA Test - Dog DNA Test Kit for Breed and Ancestry Information
26 new from $73.99
Free shipping
Buy Now
Amazon.com
Features
DOG DNA BREED ANCESTRY TESTING KIT: With a simple cheek swab you can do at home, Wisdom Panel uses the most accurate & advanced breed identification method under patent. We test for over 250 breeds, types, & varieties-the most of any test on the market.
THREE SIMPLE STEPS: Simply collect your dog's DNA with a cheek swab, activate your kit online & send your kit to the lab with pre-paid shipping. You'll receive our genetic analysis of your dog's ancestry & breed identification in as little as 2 weeks.
BENEFITS OF DNA ANALYSIS: Genetic testing can help you identify breeds & specific health issues that may be important to the wellbeing of your dog. Work with your veterinarian & use your results to develop training, nutrition & long-term healthcare plans.
BEST IN SHOW: As the leading canine genetics company we've tested the DNA of more than a million dogs & developed the largest & most comprehensive breed database in the world, with a sophisticated algorithm and a very strategically placed set of markers.
DISCOVER MORE ABOUT YOUR DOG: DNA analysis unlocks a brand new world of DNA-based insights that may help you understand your dog's unique appearance, behaviors, and wellness needs.
Embark | Dog DNA Test | Breed & Health Kit | Breed Identification & Canine Genetic Health Screening
1 new from $189.00
Free shipping
Buy Now
Amazon.com
Features
BREED IDENTIFICATION: Embark screens for over 250 dog breeds. Using a research-grade genotyping platform developed in partnership with Cornell University College of Veterinary Medicine, Embark offers the most accurate breed breakdown on the market.
HEALTH SCREENING: Embark tests for 170+ genetic diseases including MDR1 drug sensitivity, glaucoma, degenerative myelopathy, and dilated cardiomyopathy, some of the most common adult-onset diseases in dogs. Keep your dog healthier & happier, longer.
FAMILY TREE & ANCESTRY: The Embark Dog DNA Test maps your dog's family tree all the way back to great grandparents. Embark also pairs your pup with similar breed mixes. Explore their profiles and photos to see how much they resemble your dog.
DISCOVER YOUR DOG'S RELATIVES: Find and connect with other dogs that share DNA with yours, including distant and close relatives. Only Embark will give you a percentage of shared DNA between your dog and others that have been tested with Embark.
FAST, TRUSTED RESULTS: Built by experts, only Embark is partnered with Cornell University College of Veterinary Medicine and is trusted by veterinary hospitals. Results generally between 2-4 weeks.