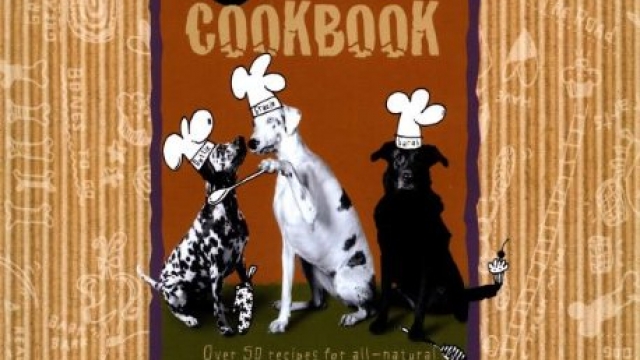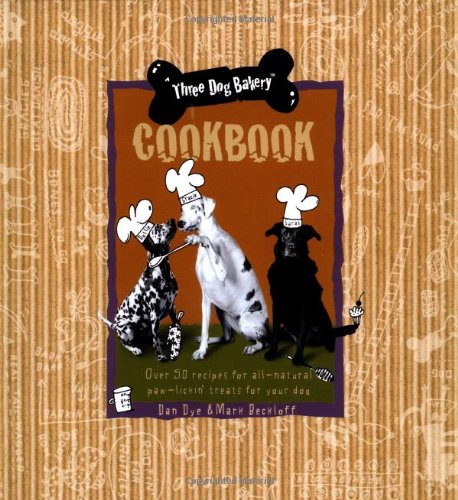 hardbound
cookbook for dogs
Three Dog Bakery stores are legendary. Stocked with cleverly named canine confections–from SnickerPoodles to Scotty Biscotti to Big Scary Kitties — the pooch patisserie has grown into an international operation, featuring its fresh-baked, all-natural bakery treats for dogs.

Three Dog Bakery's 1996 autobiography, Short Tails and Treats from Three Dog Bakery, tells all about how Dan Dye and Mark Beckloff, with inspiration from their three dogs, came to run 12 retail bakeries around the world, as well as wholesale and mail-order divisions. Now, Three Dog Bakery is sharing its secrets with dog devotees everywhere. With this new Three Dog Bakery Cookbook, readers will be able to concoct the kind of tasty treats that canines crave.

Featuring more than 50 recipes–from Banana Mutt Cake to Great Danish, and from Fiesta Bones to Gracie's Megapizza–the Three Dog Bakery Cookbook will have dogs salivating like Pavlov's proverbial pet. Full-color finished dish photographs give human cooks a look at what they're making, while health tips and canine trivia sprinkled throughout the book both educate and entertain.

Arranged into six chapters, Three Dog Bakery Cookbook covers the dog-snack gamut, from savory morsels to carob-coated treats, from luscious entrees to chewy soft-baked confections. Readers will find recipes for all doggie occasions, from birthdays to obedience school graduation.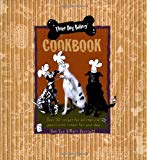 Average Price Bully Mix Found To Buy Online: $ 19.99
Best Price To Pay Online Found By Bully Mix Sniffer Dogs Was: $ 2.99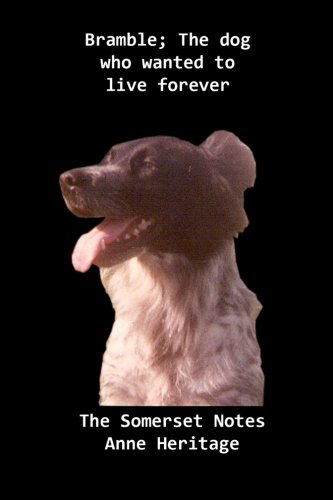 Bramble the Welsh collie was,at the time of her death the worlds oldest bitch. This is her story and a record of her life . It is also the story of her human companions and a record of her diet and care regime. It will enable people to promote longevity in Animals in their care and provides food for thought on how an understanding of Animal rights can contribute to dogs leading longer lives.It is set in the back drop of Somerset, in the uk, the land of the summer people and touches on the lives of the Somerset working class from the nineteen fifties to the present day.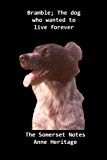 Average Price Bully Mix Found To Buy Online: $ 15.50
Best Price To Pay Online Found By Bully Mix Sniffer Dogs Was: $ 4.89