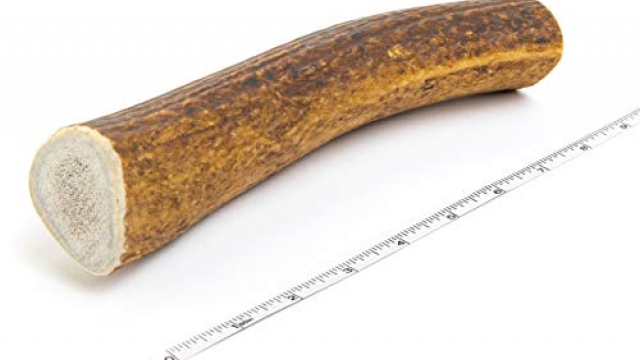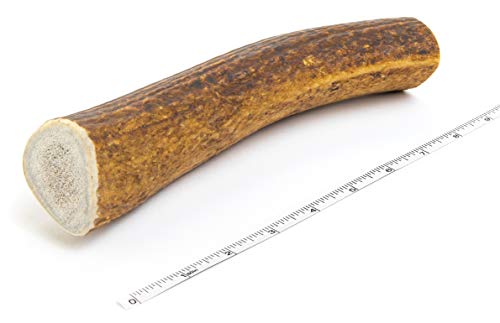 🐶 PREMIUM ELK ANTLERS FOR DOGS – You will get ONE Extra Large (XL) Antler Chew that is 7″+ in length and is an excellent treat for large and aggressive chewing dogs weighing 65+ pounds. Ideal for breeds like: Great Danes, Mastiffs, St. Bernards, Newfoundland and Irish Wolfhounds. If you are not sure which size to purchase, please contact us and we will be more than happy to help
🐶 HAPPY DOG HAPPY LIFE: Boredom is one of the main reasons your dog will get in trouble. Elk antler chews will keep your dog physically and mentally stimulated day after day. Our premium antler dog chews are long lasting, of the highest quality and perfect for aggressive chewers. We only deal with the top 5% of antler chews on the market
🐶 YOUR BEST FRIEND DESERVES THE BEST: Unlike rawhides which have been shown to be deadly; Bully sticks and pig ears which can be messy and stinky, our antler dog chews are organic, non-synthetic, all-natural, clean, odorless. Antler chews are an amazing source of essential nutrients. We NEVER source from elk farms. All of our antlers are wild sourced from the grounds of the Rocky Mountain region of the USA
🐶 YOU ARE HELPING TO SAVE DOG LIVES: Each month, Devil Dog Chews selects a rescue as their featured rescue for the entire month. They set aside a percentage of every sale and make a donation to that rescue at the end of the month
When Good Dogs Go Bad
Have you ever come home and found shoes, toys, a remote, eyeglasses or anything else that wasn't meant for your dog chewed up?
Has your pup ever had bad gas or an upset stomach after consuming a treat or bone that was supposed to be "all-natural"?
Did you know that when most dogs misbehave, it's because they are bored?
Devil Dog Chews Wild Elk Antler Dog Chews are a product of nature and the ULTIMATE chew solution for your canine companion.
WARNING: Once the antler has become small enough for your dog to swallow whole, you will need to remove and replace/discard or recycle it and give it to a smaller dog!
Antler chews vary in shape, weight, thickness, size and color.
Always purchase the appropriate size chew for your dog. Some dogs may attempt to swallow them if they are too small.
Sizing Chart:
Small: 4″+ long and for dogs 10-25 pounds in weight
Medium: 5″+ long and for dogs 20-45 pounds in weight
Large: 6″+ long and for dogs 45-70 pounds in weight
Extra Large (XL): 7″+ long and for dogs 65-85 pounds in weight
Jumbo (XXL): 8″+ long and for dogs 85+ pounds in weight

Average Price Bully Mix Found To Buy Online: $ 34.97
Best Price To Pay Online Found By Bully Mix Sniffer Dogs Was: $ 34.97