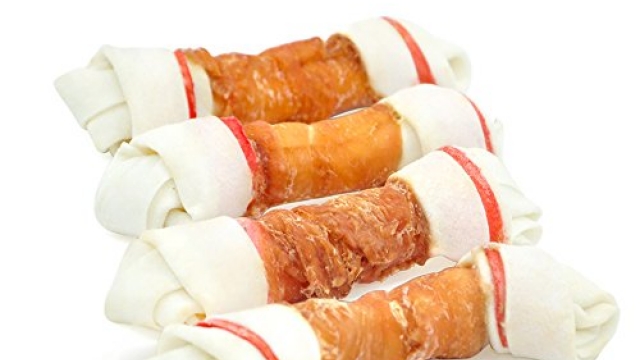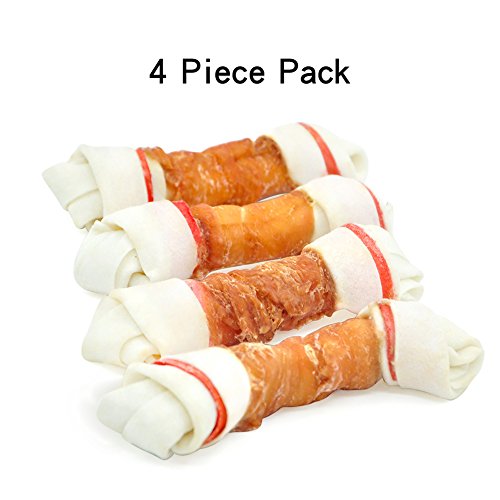 Natural and healthy: High Protein Chicken and Premium rawhide is mainly ingredients, chicken breast are riched in high protein low fat, easy to digest, USDA&FDA Grade strict procced and professional strict inspection, without any preservatives, artificial flavors or chemicals. We only produce the natural, healthy treats for your dogs.
Chicken wrapped bone Long Lasting chew: Every bags chicken are hand-wrapped, they are nice and thick can keeps dog occupied busy for hours, premium rawhide riched in collagen, Keep your dog entertained for a long time, chewing away on these delicious bones and enjoying its' yummy flavor!
Perfect for training or everyday treating, suitable for large and medium dogs.
High-quality: Each Chicken Knotted Bones is hand-wrapped and inspected to ensure quality and perfect consistency, without any hormones or antibiotics, preservatives or chemicals,to bring into a healthier and better tasting treat.
Chewing is the nature of dogs, our dog bones are a great way to help dogs effectively removes tartar build-up and plaque,strengthens gums and jaws, helps dog maintain healthy teeth, Also helps to keep dog's teeth healthy and clean.
Pet Cuisine Chicken Wrapped Rawhide Bones are tasty natural, healthy bones combination of real chicken and premium rawhide, These dog bones 100% premium ingredient, Professional strict inspection. No contain additives or preservatives, no artificial colors or flavors.? Bones are full with delicious calcium, the bone size also perfect for dog chews, even lasting for fews days!composition:Chicken 21%, Rawhide 77%, Vegetable glycerine, Sodium chloride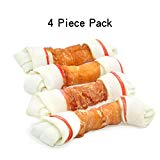 Average Price Bully Mix Found To Buy Online: $ 14.46
Best Price To Pay Online Found By Bully Mix Sniffer Dogs Was: $ 14.46
Find More Dog Bones Products