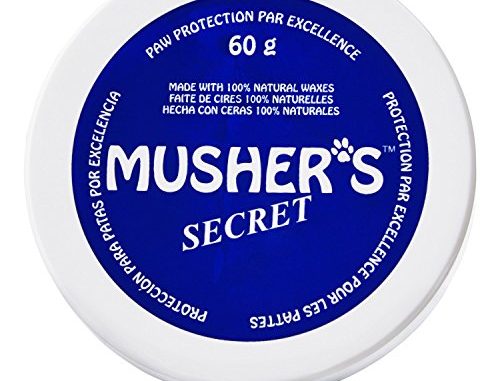 Musher's Secret Pet Paw Protection Wax, 60-Gram
25 new from $12.16
Free shipping
Buy Now
Amazon.com
Features
Protects paws from sand, hot pavement, ice and salt with all natural 100-percent wax-based cream
Perfect for mushing, hunting, walking or before any outdoor activity
Easy-to-apply formula contains vitamin E to moisturize and help heal wounds and keep paws healthy
Available in pack of 2.1-ounces
Measures 3-inch length by 3-inch width 1-1/3 height
Baely's Paw Shield Rescue Stick - Trust the Original Made in America Paw Shield | Easy to Apply Dog Paw Protection Wax | Natural Paw Protection for Hot Cold Rain & Mushers in Snow | 2 oz Easy to Apply
1 new from $15.95
Free shipping
Buy Now
Amazon.com
Features
TRUST THE ORIGINAL MADE IN AMERICA PAW SHIELD: We've been protecting paws since the other products were just pups! Our family makes Baely's here in Atlanta, GA. We don't buy from another company and slap our label on their product - We take pride in our Baely's! We make our own product with our own formula. You will see the difference in our product. If you don't love your Baely's for any reason, just let us know. We will happily issue a full refund and take care of any problems that you have.
HEALS AND PROTECTS: The premium ingredients in Baely's cover your dog's paws in a moisture nutrient-rich environment that promotes quick healing of damaged, cracked paws. Our beeswax blend encapsulates your dog's paws and protects them in hot and cold weather. Our formula is made to be non-staining for all surfaces. Baely's is solid at room temperature. That means if your dog wipes his paws on your floor, our product solidify instantly. Just a quick wipe - and there's no staining! Even Carpets!
PROVEN PROTECTION AND RELIEF FOR DOGS PAWS: Baely's has been tested and proven effective in extreme conditions and tough environments on all kinds of dog paws including Mushers in cold, snowy conditions, Hikers in rough mountain terrain and Walkers on the hot Atlanta, Georgia concrete. Our formula protects paws from cold, snow and irritating road salt in the winter. In the summer, it provides a barrier to the hot conditions while helping to heal dry, cracked and heat damaged paws.
PRICE VERSUS COST: We are not the cheapest paw product available -- because we don't want to be cheap! We want to be the best! From our 50% larger size, our superior packaging and the proven effectiveness of our premium ingredients (all from the USA) - the Baely's difference is real. There is a purpose for everything we do and it shows in the quality of our product. By investing a few more dollars in your Baely's you will see better results and use less, saving money in the end! We guarantee it!
ALL NATURAL PREMIUM INGREDIENTS: Baely's Paw Shield uses premium, all natural, human grade ingredients that are completely harmless if licked (we all know some dogs lick their paws). Only the best premium plant butters and natural beeswax are used from reputable FDA registered USA based suppliers. Baely's is truly a Made in America Family Owned and Operated company. If you have any questions, just send us a message here at Amazon. We will personally respond and help you any way that we can.