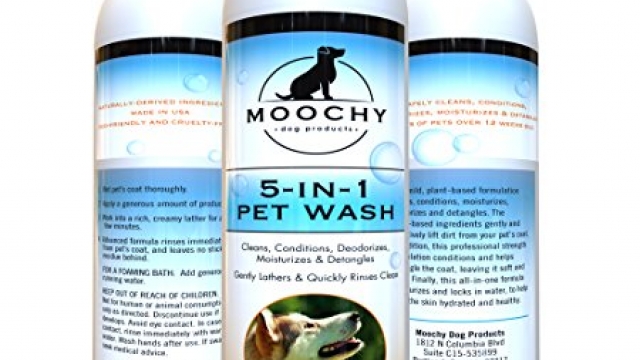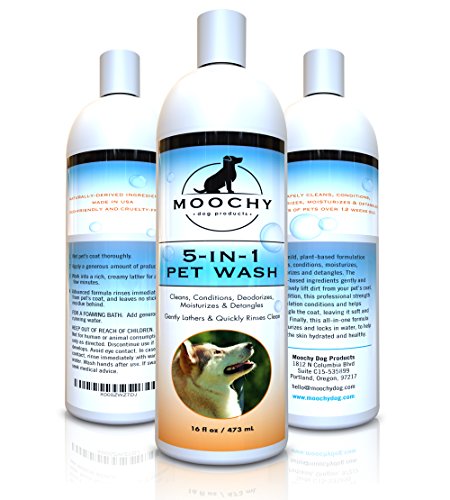 SUPERIOR FORMULATION: Our 5-In-1 Pet Wash is Eco-Friendly and free from Soap, Dyes, Preservatives, Sulfates and Parabens! Perfect for dogs suffering from skin conditions.
100% NATURAL: Contrary to our competitors, who claim to have a natural formula, but use only few, low-quality plant derived extracts, Moochy Dog's 5-In-1 Pet Wash uses ONLY ingredients derived from 100% natural sources.
FRESH AND CLEAN: Does not leave your pet with the dreaded 'Wet dog smell'!
A VERSATILE WASH: A Cleaner, conditioner, moisturizer and dog hair detangler all in one bottle
100% SATISFACTION GUARANTEE: And made in the USA
Moochy Dog Products: High-End Pet Care Innovators
At Moochy Dog Products, we have taken decisive action to fill the void of high quality products in the pet grooming market.
Taking into consideration the highly sensitive demands of dog care and its unique skin and coat needs, we have formulated a truly outstanding, versatile care product.
It key benefits include:
• 100% Natural Formula, NO Low-Grade Derivatives, Safe For Your Dog's Skin;
• No Parabens, Sulfates or Preservatives; Soap And Dye Free;
• Allergen & Irritant Free;
• Versatile Grooming: Shampooing, Cleansing, Conditioning & Moisturizing, Delightfully Deodorizing
• Gives Your Dog A Strong, Shiny Coat & Silky Smooth Skin
Make the best choice for your dog and invest wisely in its grooming care. By investing in this superior grooming product, you will provide much-needed relief from its troubling skin problems and cut down on your pup's exposure to harmful irritants.
Your dog will no longer suffer from painful itching or redness caused by industry standard pet shampoos. At Moochy Dog Products, we are the only company that can guarantee that.
Directions:
Wet pet's coat thoroughly. Apply a generous amount of product. Work into a rich, creamy lather for a few minutes. Advanced formula rinses immediately from pet's coat!
FOR A FOAMING BATH: Add generously to running water.
Waste No More Time.
Get Your Own 5-In-1 Wash Bottle Now And Give Your Pet Luxurious Grooming Care!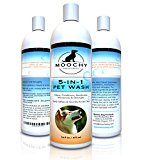 Average Price Bully Mix Found To Buy Online: $ 14.87
Best Price To Pay Online Found By Bully Mix Sniffer Dogs Was: $ 14.87
Related Dog Shampoo Products