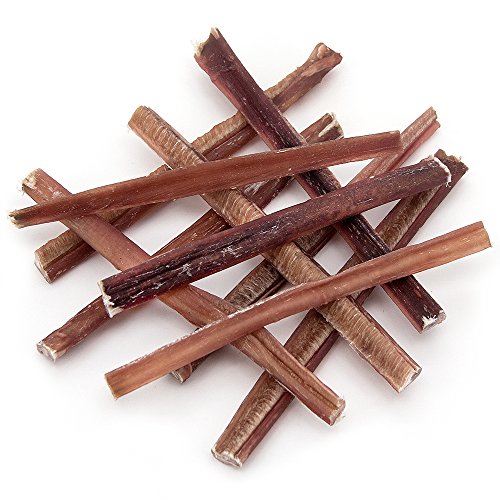 VALUE PACK SIZED: Our treats are perfect for smaller breeds, dogs with smaller appetite or ones that are just watching their weight!
ALL NATURAL GOODNESS: Treat your dogs to free range bully sticks that are completely additive free. These tantalizing chewy dog treats are made using high-protein bull pizzle of healthy grass-fed cattle. We've ensured that our all natural pet treats are completely free of hormones, preservatives or chemicals.
ABSOLUTELY ODOR FREE: We carefully clean and naturally dry these bully sticks to eliminate the odor. No more dealing with a house reeking of pizzles. Our bully sticks for dogs also never stain surfaces or cause foul dog breath.
HEALTHY TEETH AND GUMS: Reduce dangerous plaque and tartar buildup by treating your pooch to one of these natural chews for dogs. Each bully stick for dogs gives their pearly whites a thorough cleaning and provides them healthy protein for all-around health.
SAFE FOR YOUR PET: We produce our hypoallergenic dog treats in a FDA-certified facility where the final products are randomly tested by the USDA for safety when they arrive in the US. These bully sticks come in assorted sizes and shapes to keep your cherished canine safely distracted for ages. Click 'Add to Cart' now!
A DOGGIE TREAT YOU AND YOUR POOCH WILL LOVE
Oh So Delish
Your pup won't be able to get enough of these tasty bully sticks! We thoroughly clean bull pizzle,
dry it under the sun, and give it a slow roast to deliciously lock in the flavor. So your fur-face will
enjoy an absolute treat every time they bite into these chewy meaty treats. And it will be one
healthy treat too! Our beef pizzle sticks are 100% organic. They're made from free range and
grass fed cattle from Brazil to ensure that your dog never ingests any hormones, preservatives,
or chemicals. Treat your pooch to delicious all natural goodness.
Stop the Stink
We're one of the very few companies dedicated to producing bully sticks that are low on odor. So
now you never have to run to crack open a window every time you dish one out. We've also
whipped them up in a wide range of sizes and shapes to suit just about any dog breed. They come
in value, medium, thick, and jumbo sizes, and in lengths from 6" all the way up to a full 36". Choose
the right pack for your dog and give yourself a break as they chew their little hearts away.
Here are more reasons to love these bully sticks:
– Made in a FDA certified facility that is regularly USDA tested.
– Fully digestible and packed with healthy protein.
– Promote dental health by reducing plaque and tartar buildup.
– Never stain surfaces or create bad-smelling dog breath.
– Help prevent chewing damage by satisfying the natural urge to do so.
Count on our all natural bully sticks to keep your pup in chewy doggie heaven all while keeping
your home odor free. Click 'Add to Cart' now!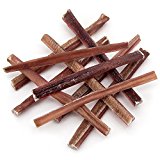 Average Price Bully Mix Found To Buy Online: $ 20.99
Best Price To Pay Online Found By Bully Mix Sniffer Dogs Was: $ 20.99