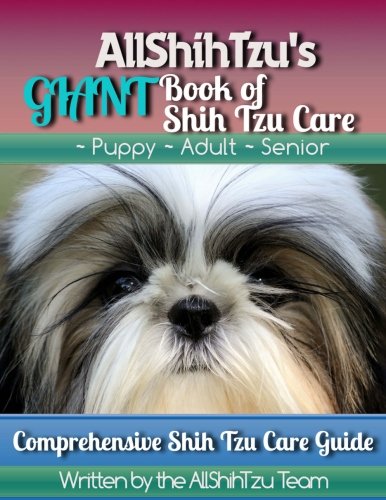 AllShihTzu's GIANT Book of Shih Tzu Care is a remarkably comprehensive Shih Tzu-specific care book regarding puppies, adults, and seniors.
Taking care of your canine family member requires a deep commitment to health, safety, comfort, and happiness. And, it's hard to go this alone. With this book, we'll be with you every step of the way to help navigate you through each stage of your Shih Tzu's life.
All topics are thoroughly explored with incredibly helpful detail: Appearance, barking (all possible scenarios), every behavioral issue and quirk you may encounter (27), body part specific care, care by season, skin & coat care, command training, exercise (6 sections), feeding and nutrition (10 sections including effective solutions for your picky eater), all female issues (including full pregnancy and whelping info), grooming (12 sections), and health issues (39 sections – including the most in-depth allergy guide imaginable).
In addition, heeling and walking-on-leash issues, exact step-by-step housebreaking (plus every possible hiccup answered, resulting in an exceptionally well-trained pup), territorial marking, instructions to resolve separation anxiety to help your Shih Tzu feel secure while gaining self-confidence, socialization and desensitization training, and much more.
Importantly, you will never see aspects glanced over, leaving you asking, "Now what?" You will have the exact answers for 'what to do' and 'how to resolve this'.
Included in this book are exclusive and enlightening survey results regarding the behavior, personality, and health of 2,749 Shih Tzu. And, growth charts tracking the stats of 129 Shih Tzu puppies.
Contributors include several top reputable AKC Shih Tzu breeders and author and trainer Faye Dunningham who provides special-edition training sections regarding interacting with dogs (both 'known' and 'unknown'), visitors, strangers, and situations. It's a perfect guide for building self-confidence and restraint, allowing a Shih Tzu to be social, very well-behaved, and happy!
Being 8.5×11" and 360 pages, this Shih Tzu care book for puppies and dogs truly is GIANT; however, it is also exquisitely formatted via various fonts, headers, and bullet points for enjoyable reading. Incorporated throughout are beautiful photos (b&w), along with charts, graphs, and other supplementary aids.
Whether you have a new puppy or an older dog, let's get started on a wonderful, fulfilling, fun, and healthy road for your Shih Tzu!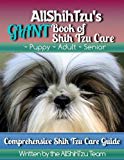 Average Price Bully Mix Found To Buy Online: $ 16.99
Best Price To Pay Online Found By Bully Mix Sniffer Dogs Was: $ 3.99
Related Puppy Care Products