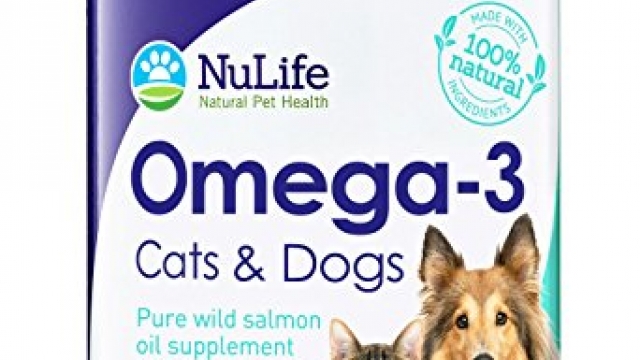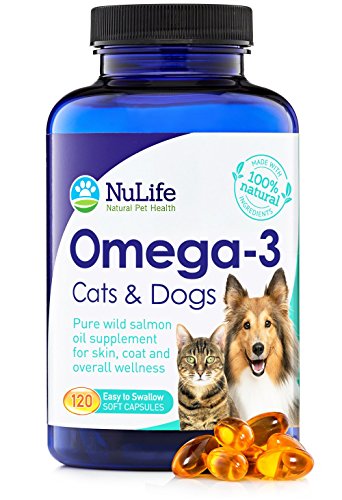 EASY TO SWALLOW SOFTGEL CAPSULES – NuLife Omega 3 for dogs & cats comes in a hassle free 500mg, easy to swallow softgel capsule. The convenient oval shaped salmon oil capsules are small enough for all breeds of cats & dogs to swallow, hassle free, especially smaller breeds. The best fish oil supplement for your pet you'll find anywhere.
FOR A BEATIFUL GLOSSY COAT – Our Omega 3 wild Salmon Oil for dogs & cats has a number of wonderful benefits for our furry friends. Besides providing a beautiful and lustrous coat, it is also known to improve the health of their skin and coat. It may even reduce skin allergies, itchy skin, shedding, and be an effective hot spot treatment in some dogs. In addition, it is thought to help with heart & cognitive function, heart health and even joint pain.
100% SAFE & ALL NATURAL – Wild caught, exclusively from the clean, icy-cold waters of Alaska using only sustainable and responsible fishing methods safe for dolphins and other protected species. Our Omega 3 capsules contain no rosemary extract, additives or preservatives that could potentially harm your pet. Just 100% of the purest, most potent fish oil for dogs & cats on the market, ready to help improve your pet's health.
UNMATCHED IN ITS PURITY – Our Omega 3 wild salmon oil is GMO free and molecularly distilled to remove all toxins and heavy metals. It exceeds all requirements set by California's Proposition 65 and all U.S. and European Pharmacopea standards. What's more it's made right here in the USA in a GMP certified, FDA approved facility. Rest assured that we are making every effort to improve the health and happiness of every pet with our Omega 3 fish oil supplements for dogs & cats.
TRY RISK FREE TODAY – We're so confident you're getting the purest, highest grade & best fish oil supplements available anywhere, we'll let you try it absolutely risk free! Use the entire bottle and if you're not absolutely thrilled, you get all your money back. No questions asked, click the Add to Cart Button Now! You're covered by our unconditional satisfaction guarantee!
Why buy NuLife Omega 3 Wild Salmon Oil?
Fish oil supplements have been proven to help keep your pets body and mind in top shape. The omega 3 fatty acids in our wild salmon oil capsules provide many health benefits, from healthier skin and coat to reducing skin allergies, providing better heart function and even reducing joint pain. Not all fish oil for dogs are created equal though. It's important that you choose wild salmon over farmed salmon from the North Atlantic because wild are widely regarded the best source of Omega 3 for dogs, environmentally friendly, have significantly less calories & saturated fat with far superior health & nutritional benefits.
NuLife Omega 3 Wild Salmon Oil is one of the best fish oil supplements for dogs & cats you'll find anywhere. Sustainably & responsibly sourced, from the clean, icy-cold waters of Alaska, it's molecularly distilled for purity from all toxins and refined for maximum potency without the nasty fish smell.
What NuLife Omega 3 Wild Salmon Oil can do for your pet:
– EPA, acts as an anti-inflammatory, which can help with any condition that causes inflammation of the heart, kidneys, skin, and joints.
– DHA, important in brain and eye development in puppies and is recommended for pregnant or nursing pets.
– Help ease inflammation due to allergies, and reduce dry, itchy skin. This can also be an effective way to potentially decrease the incidence of hot spots.
– Promotes a shiny, healthy coat, and may reduce shedding.
NuLife Omega 3 Wild Salmon Oil is guaranteed to contain 100% of the purest, most potent fish oil on the market to provide optimum nutrition for your pet. Our salmon oil is all-natural, human grade, made in the USA and does not contain any additives or preservatives.
Keep your pet active, healthy and happy! Click the Add to Cart button above to help improve your pet's quality of life!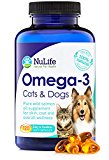 Average Price Bully Mix Found To Buy Online: $ 39.95
Best Price To Pay Online Found By Bully Mix Sniffer Dogs Was: $ 17.95
Related Bulldog Health Products